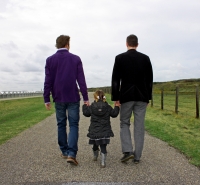 Two million children in the US have parents who are gay, lesbian, bisexual, or transgender. We are working diligently to help build more of these families — families who are entirely respected, utterly adored and endlessly celebrated.
It is imperative in today's society for individuals to raise their voices and support equality.
There are ongoing struggles endured by LGBT communities on a daily basis. With so little time spent on the RIGHTS of human beings outside our own walk of life, it is easy to overlook the RIGHTS that are easily attained by some and so quickly taken away from others.
FindSurrogateMother.com eagerly accepts LGBT individuals and couples — and more importantly ALL walks of life.
Sponsoring pride is not just about backing what's RIGHT; it is merely showing support for individuals who have a heartbeat, for individuals whose commitments in life aren't driven by their diversity; it is about honoring individuals who are proud of themselves and their inclusiveness and ultimately reflecting these values in everything we represent at FindSurrogateMother.com.
We encourage anyone who visits our site to explore the world of surrogacy and connect with the empowering generation of members who believe in love, equality and family first.
Why do we Support Gay Parenting?
Parents who are among the LGBT community portray the same characteristics that all parents do, they instill values of — love, respect, protection, education — just as any other parent does.
We are linked to a society that actively discriminates against LGBT parents based on their love for each other and what our society doesn't completely understand — that discrimination deeply penetrates into the lives of these precious children.
We proudly support and recognize same-sex relationships and members of the LGBT community in their ongoing battle to create and raise a family.
Our doors are wide open to everyone who visits FindSurrogateMother.com and we utterly embrace the chance to help ALL individuals attain their goals of having a baby.
Be You — Be Involved.